* PART II -- Real Science Radio on the Big Bang with Lawrence Krauss: (Hear also Krauss part I but for our written evidence against the big bang, keep reading here.) Creationist co-hosts Bob Enyart and Fred Williams present Bob's wide-ranging discussion with theoretical physicist (emphasis on the theoretical) Lawrence Krauss. These RSR programs air on America's most powerful Christian radio station, Denver's 50,000-watt AM 670 KLTT. Over time this web page will grow as we add the work of countless secular scientists who document widely accepted observational data, which facts taken individually and together challenge the atheistic big bang origins claim made by Krauss.
* Krauss: "All evidence overwhelmingly supports the big bang": Mentioning some of the obvious studies and massive quantities of data (see list below) that at least apparently seems to strongly contradict fundamental big bang predictions, Bob offered Krauss a chance to dial back his written claim that "all evidence now overwhelmingly supports" the big bang (p. 6 in his book, and 3:45 into today's program, beginning with Krauss' question, "You're not a young earther, are you?"). Instead, Krauss dug in deeper. There is nothing objective about Lawrence Krauss. He comes across more like the high priest of a cult than a scientist willing to acknowledge and follow the data. Each of the major observations below require secondary assumptions and rescue devices, some of which have not even been invented yet, to keep these enormous quantities of scientific data from apparently falsifying the big bang and its standard claims for the age of the universe and for star and planetary formation (this list will grow including with additional references over the next months):
RSR's List of Evidence Against the Big Bang: For the latest version of this list which includes links to dozens of peer-reviewed journal papers where even proponents themselves admit their major discoveries go against the predictions of their own big bang theory, see rsr.org/evidence-against-the-big-bang. Here's a summary:
* Mature galaxies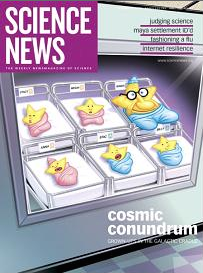 exist far, far away where the big bang predicts that only infant galaxies should exist.
* Hundreds of galaxies are clustered out at tremendous distances where the big bang predicts that such clusters should not exist.
* Spiral galaxies look "too perfect" because they are missing millions of years of their predicted collisions.
* The surface brightness of the furthest galaxies is identical to that of the nearest galaxies, contradicting a central prediction of the big bang.
* Nine billion years of synthesized heavy elements are missing from a trillion stars. That's a lot. This study failed to confirm the fundamental expectation of the big bang's theory of nuclear synthesis.
* Not even one of the millions of stars ever analyzed is a supposed "first generation" star (aka Population III), contrary to big bang expectations.
* The discovery of exoplanets, including hot Jupiters and one with a retrograde orbit, has completely falsified the big bang's nebular hypothesis of solar system formation, as openly admitted by Mike Brown, the exoplanet database manager for NASA.
* It is not a scientific statement but merely a philosophical one to claim that the universe has no center, and thus, the big bang's central Copernican principle is not based on science but on philosophical bias, as widely acknowledged including by Stephen Hawking and Richard Feynman.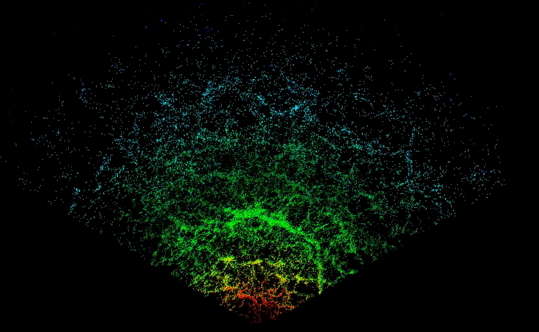 * The most advanced three-dimensional map of more than a million galaxies seems to imply that the universe has a center.
* Our sun is missing nearly 100% of the angular momentum (i.e., spin) that the big bang theories of stellar evolution and solar system formation predict that it should have.
* There is an entire universe worth of missing antimatter if the big bang theory were true.
* The big bang's theory of chemical evolution is in crisis as inherently admitted with the National Academy of Sciences report titled, 11 Science Questions for the New Century which asks "How were the heavy elements from iron to uranium made?" with the journal Nature recently publishing a paper also admitting that even supernovae cannot produce our earth's heavy elements.
Today's Resource: For today's program we recommend
RSR's Evidence Against the Big Bang video.