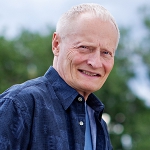 * Pastor John Stocker: From Loveland's Resurrection Fellowship, famed pastor John Stocker discusses the Age of the Earth with Pastor Bob Enyart of Denver Bible Church, referring to light years, and the King James Version's use of the word "replenish."
* John Stocker Part II: If you enjoy today's program, you'll want to check out tomorrow's conclusion!

Today's Resource: Listen to our moderated Age of the Earth Debate between Bob Enyart and a high school science teacher, against a geophysicist and a university mathematician! You can listen to the debate, and by popping the CD into a PC, you can also view the spectacular science slides to help you understand the discussion!