* Pat Robertson & Danny Glover are Idiots: It's not just the Christians who think Haitians are being punished for their sins against God. Moronic un-believers think they're being punished for other people's sins against the earth!
* BEL Superstition List: The stronger a Christian's walk with the Lord, the less he will crave superstition. If you have a favorite BEL program that discusses the danger of Christian supersition, please email the link to Bob@kgov.com. Thanks!
- 2007 BEL Reporter: California Fires Not Judgment
- 2009 So Who's Superstitious? Wal-Mart Shoppers and...
- 2009 The Hudson River Landing was Not a Miracle
- 2009 Jim from Denver Upset at Bob about Hurrican Katrina
- 2010 Christian & Heathen Superstition (this program)
- 2011 Superstition is No Joke!
- 2013 BEL on Floods, Fires, & Superstition
- 2014 Superstition, the Death Penalty, & Just Good Radio

* Jerusalem Post Advertises Bob's Predestination Seminar: In the January 2010 copy of the Jerusalem Post's Christian Edition you will find perhaps the greatest artistic, visual representation of the dogma of predestination, (check it out here). Too bad the point is lost on Glover… but where there's life there's hope!
* Rich Scordato, Agape Kingdom, and Bob Enyart: Bob's mentor in the faith, successful New Jersey restauranteur Richard Scordato, mailed to BEL an issue of the Ft. Lauderdale Florida Calvary Chapel Magazine. Hear co-host Doug McBurney recite an inspirational account of Bob's early ministry taken from the back page of that magazine. Teenagers and parents alike were brought to the cross by the bold ministry of a teen-aged Bob.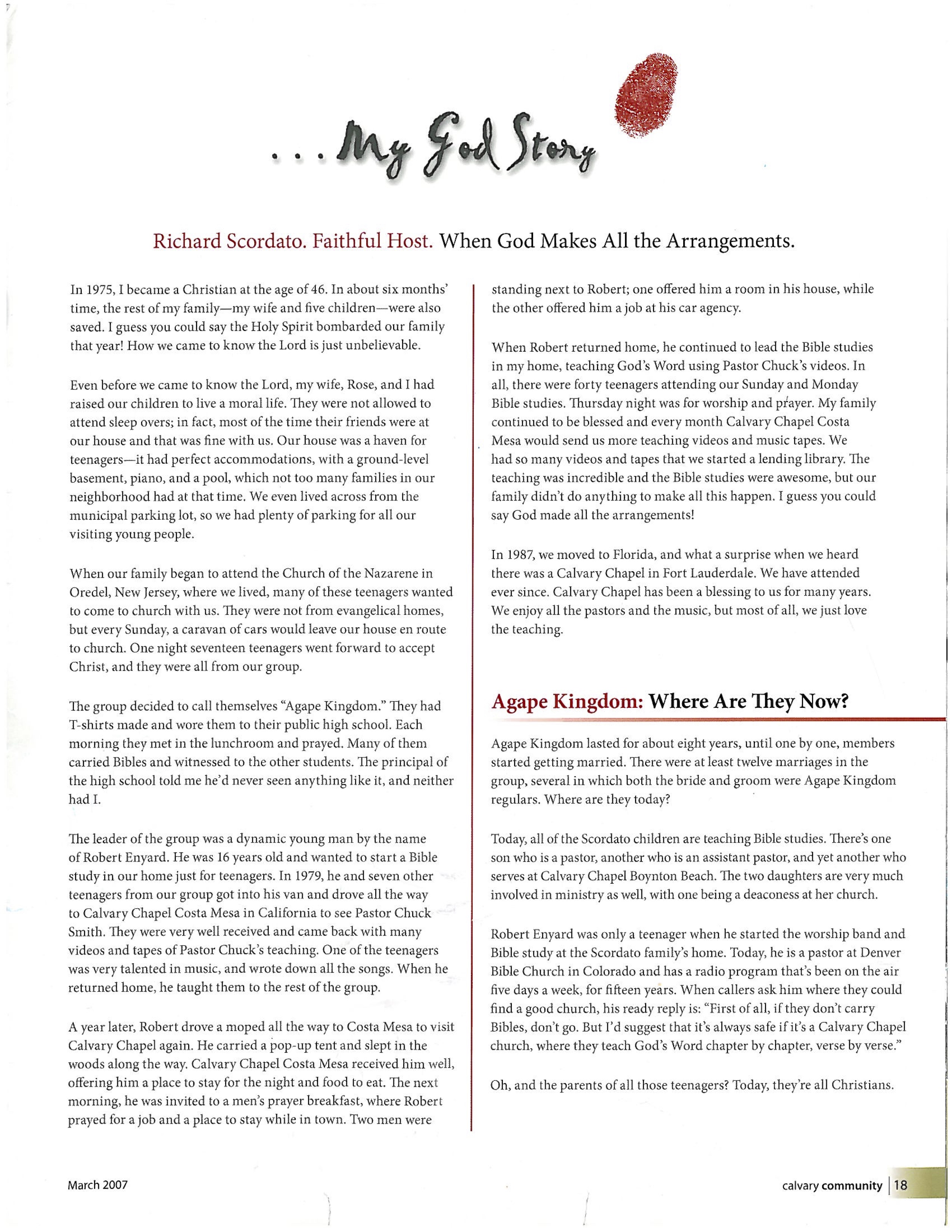 * April 2020 Update: Hear Bob share a story from his early years on the April 14, 2020 BEL radio broadcast.

* Cover of Magazine with Rich Scordato's note: See the cover.
* The Personhood Movement Has Exploded Into 40 States! So please help the state personhood efforts get the signatures they need to re-criminalize abortion! If you live in:
- Colorado: could you help circulate the Personhood Colorado & Colorado RTL 2010 petition? If so, just click or call 303-753-9394.
- California: please visit the CA Human Life Amendment site to get a petition and start collecting signature for the Lord and for the innocent child!
- If you live in any other state, can you help to advance personhood via the 2010 ballot or in one of three different ways?
We all need your help!

* Today's Resource: Please consider emailing this helpful description of Focus on the Strategy II to another Christian who may be an asset in the personhood movement after viewing this groundbreaking DVD!