On today's broadcast, Bob Enyart celebrates National Atheists Day and then he airs his phone call into a competing Denver radio station in which he confronts former prosecutor and killer of unborn children Craig Silverman.
* Craig Silverman Asked Bob about a Fire at an IVF Clinic: Here's our answer...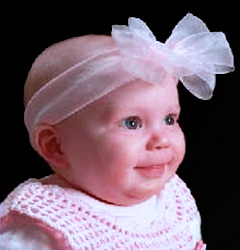 * Also Craig, this little girl was Fed Ex'd: Snowflake Children: This baby girl was adopted, like all the snowflake kids, as a frozen embryo. A snowflake child is one of the strongest proofs that the single-celled human is a person. Little Elisha Lancaster, frozen for years, appears in an online personhood video with her mom Maria. Elisha was fully alive, fully human, and not a boy but already a little girl, at the very moment that she came into existence in a laboratory. Then, four years later, this tiny person was adopted, Federal Expressed across the country, and implanted in mom's womb.
Today's Resource: Enjoy the James and Jude Bible study which you can download immediately or receive in the mail as an MP3 CD. We're so confident that you'll learn so much about God and His Word, and that you will love this study, that we offer a 30-day money-back guarantee! So check it out! And at the same time, you'll be helping BEL reach more people and stay on the air for another broadcast year!