Bob Enyart discusses the upcoming Great Debate between Matt Slick, founder of CARM.org vs. Will Duffy, founder of OpenTheism.org. Folks are coming to Denver from out of state so please try to attend if you at all can, 6:30 p.m. Friday evening, Dec. 1st and 1:00 p.m. Saturday afternoon, Dec. 2nd at Denver Bible Church 4085 Independence Ct. Wheat Ridge CO 80033. December 1: Is Open Theism a Proper Representation of the God of Scripture? December 2: Does Calvinism Present God as Good and Loving? See more at opentheism.org.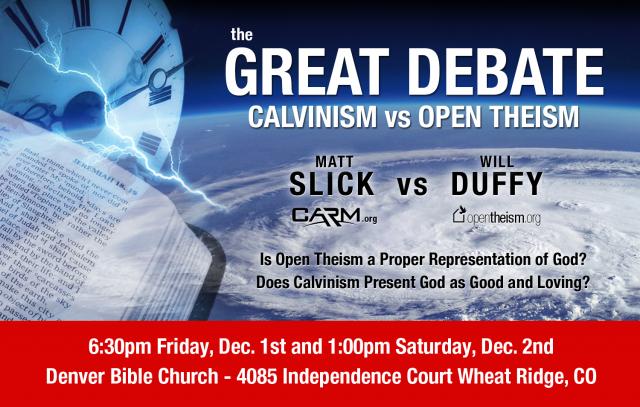 * While We're Waiting: from the BEL Archives at kgov.com/open-theism...

* Bob Enyart Debates D. James Kennedy's Professor of New Testament in a written, ten-round moderated Open Theism debate with Dr. Samuel Lamerson of Knox Theological Seminary on whether the future is settled or open.
- Read the debate online at TheologyOnline.com
- See the debate's clickable Table of Contents
UPDATE: On May 9, 2013, Bob's wife wrote:
"Whenever I see people saying God is sovereign, I'd like to think they mean that He is King of Kings, Lord of Lords, and Creator and Judge. But I really think it's become a term used mostly by folks who think God (ultimately) predestined the most evil and filthy things, so they feel the need to do damage control on behalf of God's reputation. Saying 'God is sovereign' makes Him sound powerful in a righteous sort of way, which makes them feel better when they wrongly claim that every vile wicked thing originated, before the foundation of the earth, in the mind of God."
-Cheryl Enyart
* Battle Royale X: Bob Enyart vs Samuel Lamerson on Open Theism: And now, about Bob's debate at TheologyOnline.com...
Email from a Canadian Reader
Thanks for suggesting the [TOL
Battle Royale X
] Open Theism debate between D. James Kennedy's professor and your Denver Bible Church. I just want to let you know that I can't believe what I'm reading. I'm totally shocked, stunned and mesmerized. This debate is FANTASTIC... Your open theism side is literally 'crushing' the Calvinist side. And with it, I'm sorry to say, you're crushing most of what I've always believed. This is sooooooo good and sooooooo smart. There's not even a typo in it
and I love the gentle attitude as well. Not proud or arrogant. It's all unreal! I don't think I've ever been so impressed by anything in my life. I'm really learning a lot. Please thank your pastor Bob and your church for me. I love it. You guys are the best!
In Him,
Barry from Ontario, Canada
* Can a Toy Refute Calvinist Theology? ...