* Abolish Human Abortion's T. Russell Hunter on BEL: Bob Enyart talks with Russ Hunter about AHA's Church Repent project to exhort each pro-life church to actually work toward the abolition of child killing in their neighborhood. Church Repent also works to expose the post-Christian "churches" that actually advocate child killing:

* IN A RELATED DEVELOPEMENT Cunningham/Hunter/Duffy: Tier 3 pro-lifer Gregg Cunningham posed a Question to AHA's Russ Hunter which was then answered by Denver Bible Church member Will Duffy, username YesYouNeedJesus. After Duffy's reply proved that Gregg's question was invalid, Andy Moore (son-in-law to Tier 2 pro-lifer Jill Stankey), removed Will's answer. So KGOV put it back online. :)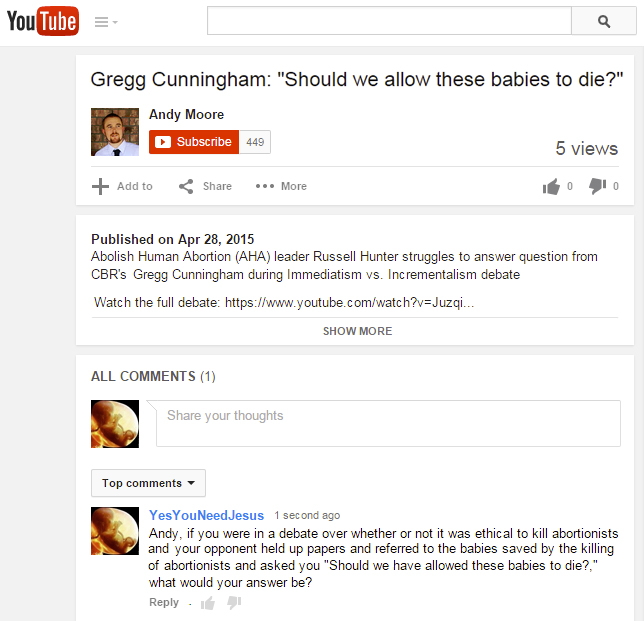 * How Duffy Invalidated Cunningham's Cunning Question: Gregg Cunningham rightly opposes killing abortionists (although he does defend some anti-abortion violence; see next bullet; and see also AmericanRTL.org/vigilante). Speaking of abortion regulations and all the babies that have been saved by those regulations, Gregg asked AHA's Russell Hunter, "Should we allow these babies to die?" That double-standard slight-of-hand question understandably caught Russell off guard. However, like AHA, Gregg opposes killing abortionists. So, to highlight the inconsistency in Gregg's gotcha-question, Will Duffy posted on the YouTube excerpt of that exchange, to Jill Stanek's son-in-law Andy Moore:
Andy, if you [or Gregg Cunningham] were in a debate over whether or not it was ethical to kill abortionists and your opponent held up papers and referred to the babies saved by the killing of abortionists and asked you, "Should we have allowed these babies to die?", what would your answer be?
Will demonstrated that this question is invalid. For as we read at AmericanRTL.org/regs, God prohibits people from "doing evil that good may come." Thus there are any number of sinful acts that might result in some particular good, but that good does not justify commiting the sinful act. The end does not justify the means. Yet those who promote child-killing regulations have become moral relativists, and so they refuse to comprehend these simple moral truths. Touché Will Duffy!
* Gregg Cunningham's Support for Some Anti-Abortion Violence: From prolifeprofiles.com/tier3:
All third-tier leaders researched by Pro-life Profiles oppose some anti-abortion violence including the vigilante killing of abortionists. However, each person and each group on Tier 3, including for example Gregg Cunningham and his Center for Bio-Ethical Reform, supports politicians who advocate some anti-abortion violence. Gregg's defense is similar to that of the abortion vigilante. He supports a level of violence, that is, he supports politicians who have "exceptions" (thereby advocating some abortion violence) because he is trying to prevent even more violence and he is working toward an end to all such violence. So in the name of eventually ending the abortion holocaust, all third-tier leaders defend politicians who intentionally kill some innocent people. This is support for a significant level of abortion violence and for much more violence than that advocated by those who unjustly kill abortionists. Thus those who murder abortionists, and those who defend "pro-life" politicians who advocate the killing of innocent children, share similar excuses.
* The AHA/ARTL/PUSA/CRTL/KGOV's Contribution to the Viral PP Videos Phenomenon:

* Deuteronomy 21 Measure the Distance: "If anyone is found slain, lying in the field in the land which the Lord your God is giving you to possess, and it is not known who killed him, then your elders and your judges shall go out and measure the distance from the slain man to the surrounding cities. And it shall be that the elders of the city nearest to the slain man will [offer a sacrifice]...And all the elders of that city nearest to the slain man shall... say, 'Our hands have not shed this blood, nor have our eyes seen it.Provide atonement, O Lord, for Your people Israel, whom You have redeemed, and do not lay innocent blood to the charge of Your people Israel.'" ... So you shall put away the guilt of innocent blood from among you when you do what is right in the sight of the Lord. - Deuteronomy 21
Today's Resource: Meet Daniel and his associates through this great BEL Bible study. You'll enjoy understanding this part of ancient Israel's history. Beginning almost exactly 600 years before Christ, the extraordinary events in Daniel's life brings the past and the future into focus, from the political affairs of ancient kingdoms to the first and second comings of the Messiah! And for our own age, Daniel shows how we should live boldly for the Lord both in our personal lives and as influencing government. Enjoy this verse by verse study of the Book of Daniel available in this 7-DVD Video Set or in audio on MP3-CD or MP3 download.
Correction: The "where the battle rages" quote" that Bob attributed to Martin Luther actually comes, per CMI's Carl Weiland, from Elizabeth Rundle Charles. Sorry Liz. And thanks Lynn, an RSR listener from Decatur, Alabama, for the correction!