Jo Scott filled in for Bob while he prepared for his open theism debate with James White at the Brown Palace hotel this evening. President Obama is visiting Denver July 9th to do a fund raiser for Governor Hickenlooper and Senator Mark Udall both of which will not be attending the fundraising speech. Jo played the June audio of a commercial announcing the Obama fundraiser and also the July 7th audio of news 9's report that Senator Udall and Governor Hickenlooper will not attend due to previous engagements. Jo spoke honestly to abortion minded women and women taking birth control warning them of the emotional, spiritual and physical risks of their actions.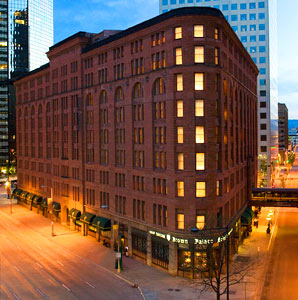 * Bob's Upcoming Open Theism Debate with James White: Well-known theologian James White will debate Bob Enyart, the pastor of Denver Bible Church on Open Theism: Is the future settled or open? SAVE THE DATE: July 8, Tuesday evening, at 6:30 p.m. The debate will be held downtown Denver at Colorado's historic Brown Palace hotel. If you're in the state, or can be, you are cordially invited to come on out and we'll have a great time in the Lord! Seats are available on a first-come, first-serve basis. Quoting OpenTheism.org, "Open Theism is the Christian doctrine that the future is not settled but open because God is alive, eternally free, and inexhaustibly creative." That is, God can forever think new thoughts, design new works, write new songs. He has not exhausted His creativity and never will for of His kingdom there will be no end and thus by God's everlasting freedom and abilities, the future cannot be settled but must be open. In the meantime, check out Bob's previous efforts by clicking on the "Debate" tab at OpenTheism.org.
* Today's Resource: Check out the format and perspective that's most helpful to your desire to evaluate these issues. At our KGOV Store: we have presentations on DVD called Chosen: It's Not What You Think, onOpen Theism, on Predestination & Free Will and a moderated P&FW Debate! Also, you can get the P&FW seminar in an audio format on a single MP3 CD). You can also call 1-800-8Enyart (836-9278) to order or to talk with us about which of our DVDs, books, or CD audio teachings may interest you!

For more information, see:
- Bob's classic Open Theism Debate with D. James Kennedy's professor of New Testament Dr. Samuel Lamerson.
- Our heavily Bible-based article, Is God In Or Outside of Time.
- A brief and fast-moving written Q&A between Will, a former BEL producer, and "Jaltus" in an Open Theism Debate with Will & Jaltus.
- Bob Enyart's debates with Dr. Larry Bray: The president of The North American Reformed Seminary (TNARS), Dr. Bray, twice debates Bob Enyart, the pastor of Denver Bible Church. The topics are: Is Calvinism Biblical? and Is the Future Settled or Open? (The host for these events, reformed believer David New, removed both of these debates from his site. We've rescued the first and put it back online, and Lord-willing we'll recover the second one.