* Consider a BEL DVD or even the Video Library: Get the entire BEL Video Library on DVD to enjoy each of Bob Enyart's fascinating topical videos and also receive each of the carefully selected 3rd-party videos we carry covering topics like science, morality, and evangelism! See a list of all these titles in the Video Department of our KGOV Store.
Bonus: We'll also send you a few of our BEL Televised Classics, so you'll get a sampling of the 1,500 TV shows that Bob hosted during the 1990s!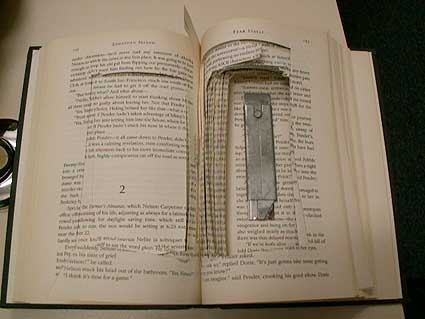 * Islamic Terrorist Wannabe: A 21-year old Florida man tried to smuggle a box cutter aboard a flight out of Tampa in a hollowed-out book titled Fear Itself, and he had other books with him including Muhammad in the Bible, The Prophet's Prayer, The Noble Qur'an, and a copy of the Koran itself. He's facing up to ten years in prison.
[inline:TerroristBookTampa.jpg]
* Cops Building DNA Database: The police in Daytona Beach are looking for a man who has already murdered four women execution style. There is no right to anonymity (although there is a right to paranoia), and no principle of governance suggests that the government should not know who lives in its jurisdiction, and thus, a comprehensive DNA database would not violate any biblical principles, and would greatly aid law enforcement and would likely be a major deterrent especially for assaults and many sex crimes. So thank you to the officers swabbing folks for comparison to crime scene DNA.
* Hacker Breaks iPod Encryption: Copyright violations break the law, God's law, that is. His enduring command, Thou shall not steal applies also to protected intellectual property, and breaking and entering, even if it's into an iPod, to steal other people's property that the consumer has contracted to use in a defined manner, is criminal.
Today's Resource: Get a Free DVD of Bob Debates the Stars! As a thank you for giving to the telethon, Bob Enyart will send you his latest smash hit DVD (well... it's a smash hit for BEL :) Bob Debates the Stars! We're at $7,500 of our $25,000 goal! Can you help push us over the $8,000 threshold? Please help keep Bob Enyart broadcasting for another year? He's on a 50,000-watt radio station, Denver's AM 670 KLTT, the most powerful Christian radio station in America! Please help Bob continue to have access to this important radio platform to reach people through another year of on-air teaching and preaching! Please call 800-8Enyart (836-9278) to make a one-time donation or a monthly pledge, or to subscribe to a great BEL monthly resource! We thank each one who has given, and each one who is praying, and each one who invites others to learn about God's Word from this talk radio program! Thank you so much!