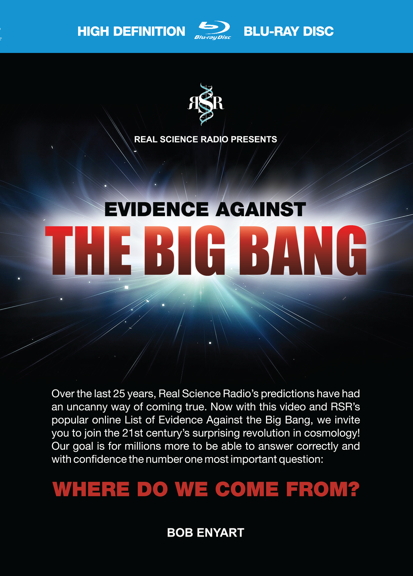 * In Quantities of 1, 4, and 10: Our full-length video has been described as a tour de force against the big bang theory! It's based on the top lines of evidence listed over at rsr.org/bb. Here are the formats and purchase options available:
- DVD or Blu-ray $34.99
- Download $29.99
- Christmas gift pricing 4 copies for $99.99
- Christmas pricing 10 copies for $199.99
This bulk pricing is available on our online store or by calling us at 1-800-8Enyart.
* 30-Day Money-back Guarantee: And as we've done for 25 years on the air, BEL has a 30-day money back guarantee.
* If Money's Tight: If you can't afford our materials, just send a check for whatever you can afford, to Bob Enyart Live, PO Box 583, Arvada CO 80001, and we'll help cover the costs and get this video to you! Just make sure to give us your mailing address and indicate whether you would like the Blu-ray or DVD. Thanks!
After Real Science Radio's debate with Lawrence Krauss, a leading big bang proponent, we aired our list of peer-reviewed scientific evidence against the big bang and against the widely-held major features of the cosmological model founded on the theory. Welcome now to Real Science Radio's second airing of our List of Evidence Against the Big Bang! On today's radio show, hear the 10-second clip from Lawrence Krauss that got Bob Enyart and co-host Fred Williams all worked up. Theoretical physicist Dr. Krauss told RSR that, "all evidence overwhelmingly supports the big bang." So in response, we produced this list, which is the web's most concise and comprehensive catalog of evidence assessed by many scientists to be inconsistent with the expectations of a big bang origin. And we invite you to share this page with friends by posting this simple rsr.org/big-bang link, and to check out the amazing full list with references just below this summary...
* Summary of RSR's List of Evidence Against the Big Bang: For descriptions and links to journal references, and the full updated list, see rsr.org/evidence-against-the-big-bang.