The mainstream media should be running weekly headlines
updating the public on the latest progress with targeted antibody treatment.
For some reason though, for now, if you want to keep up with the latest astounding
cancer treatment developments, you'll have to keep tuning in to BEL and Real Science Radio!
* Targeted Antibodies Cancer Treatment Revolution: In the latest exciting results for targeted antibodies cancer treatment, CBS News has now reported on a 35 terminally-ill, advanced-stage leukemia sufferers. The disease went into remission in 94%, or 33 of 35 patients! Dr. Michael Grossbard, New York University's Perlmutter Cancer Center leukemia specialist told CBS News, "Oncologists are reluctant to use the word extraordinary. But these [results] are extraordinary. These are really remarkable findings..." Real Science Radio host Bob Enyart turns to RSR's targeted-antibody expert, Jonathan Bartlett, who explains both the molecular biology behind this new treatment and the worldview implications ahead of it. Bartlett also discusses the impossibility that an evolutionist faces in trying to understand such a treatment and why so many scholars are fleeing Darwinism.
* Handy List of These Targeted Antibodies and Other Select Cancer Reports:
- 2016: Molecular biologist Kevin Anderson on antibody treatment on RSR
- 2016: The Daily Mail reports that University Hospital is starting to use the word "cure" and also the words "hugely effective" to describe the results of targeted antibody treatment for some cancers including "lung and skin cancer... kidney, bladder, and head and neck cancers [which include] some of the most aggressive types which are extremely difficult to treat and, together, claim hundreds of thousands of lives each year."
- 2016 CBS News reports "extraordinary results" for targeted therapy for 94% of patients with leukemia.
- 2016: A Daily Express report on late-stage lung cancer "cure" using antibodies (immunotherapy)
- 2016: BEL/RSR Colorado's sole source of news updates on targeted antibody cancer treatment (weird, no?)
- 2016: In one British trial, "patients with advanced skin cancer who would have been declared terminally ill are now back at work and are predicted to live until old age. ... "
- 2016: In Dr. Rebecca Kristeleit's "area of gynaecological cancers, scientists and doctors [are] seeing dramatic responses in the very first human trials... Kristeleit... runs clinical trial programmes looking at early-stage drugs... certain immunotherapies were licensed and happening - increasing patients' cancer survival rates after cancer. In melanoma and lung cancers they were licenced and working."
- 2016: Beautiful 12-year old Boulder girl was near to entering hospice but targeted cancer treatment kept her at home and in apparent remission! Zaida's mom, Nichol Mattson, says: "Everybody with cancer needs to have some kind of targeted treatment!" RSR agrees.

* Other Select Cancer Treatment Reports:
- 2016: Man cured of prostate cancer after testosterone treatment, shocking improvement for many others in study
- 2016: After wiping out tumors in early tests a molecule in Australian berries is now in human trials; per QBiotics
- 2010: Related -- See RSR: Nat'l Cancer Inst. Researcher Admits Abortion/Breast Cancer Link
- Please feel free to send encouraging cancer treatment reports to Bob@rsr.org. Thanks!
April 22nd, our first of half-a-dozen targeted antibodies programs in 2016. See all.
March 9th, 2012, our first broadcast explaining the "targeting" concept. Hear it.
* Molecular Biologist Kevin Anderson on Antibody Treatment: If this program interests you, then you may want to hear our July 2016 interview with Dr. Kevin Anderson!
* May 2016 Update from the Daily Mail: Are we nearing a cure for cancer? Holy grail is 'closer than ever', oncologist claims quotes Dr Rebecca Kristeleit, of University College London Hospital, who reports that advances in a revolutionary treatment called immunotherapy [targeted antibodies] were now occurring at a rapid rate. Dr Kristeleit added: 'We are beginning to start thinking about using that word 'cure'... As an oncologist, it's not a word you would ever say. This is because we talk a lot about being 'in remission' - but 'cure' is the Holy Grail."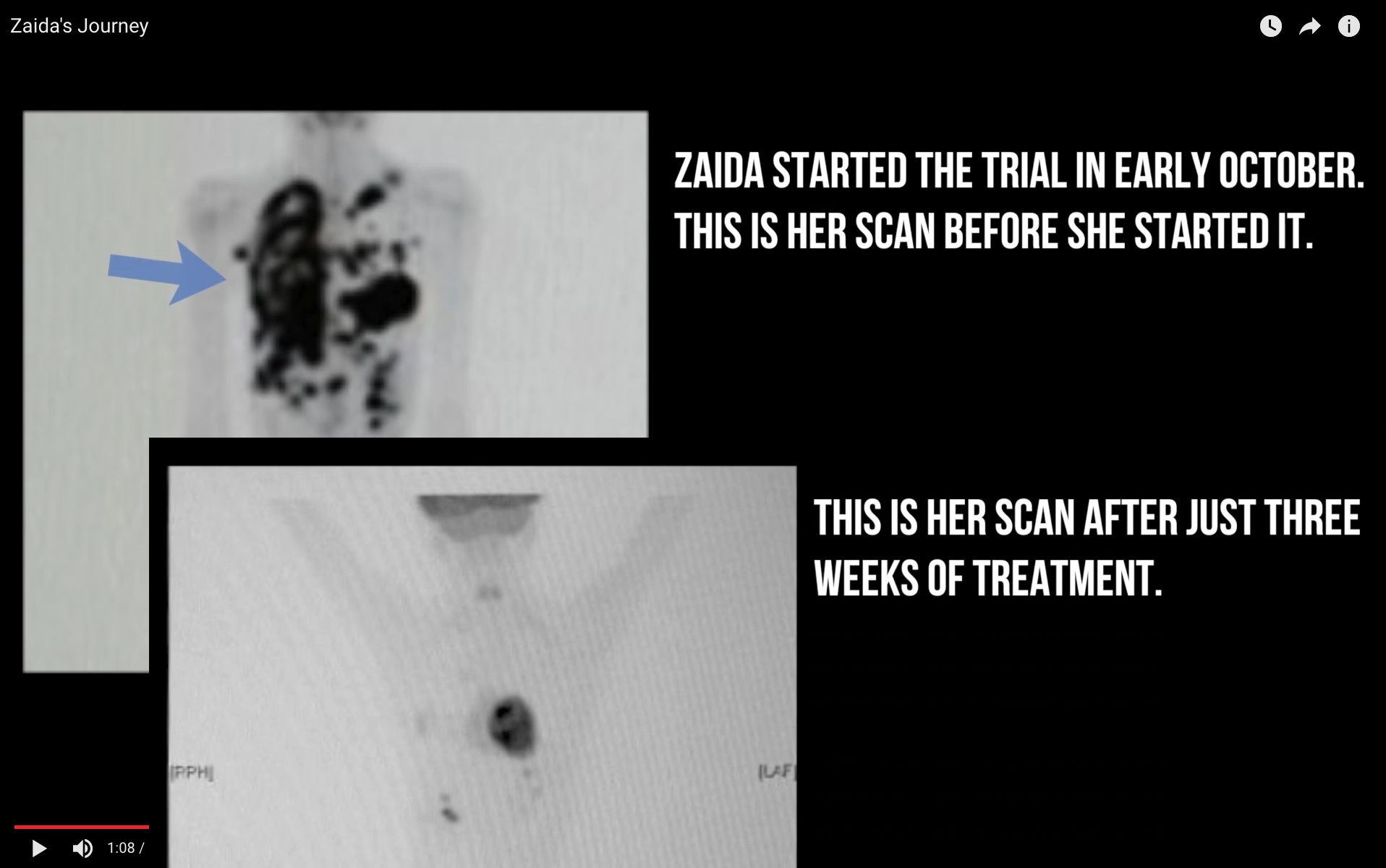 * Hear Also: You may want to hear Jonathan's 2010 RSR interview and then visit the Blyth Institute at blythinstitute.org, and you can check out the Alternatives to Methodological Naturalism Conference at am-nat.org.

May 2016 Update: This time its lung cancer! According to Britain's Daily Express, "Merchant seaman Simon Lamont-Brown, 50, was bedridden in a hospice and near death from lung cancer before he was given the breakthrough treatment. He said it was like a Lazarus effect "because I just rose from the dead". The drug has few side effects because it harnesses the body's own immune system to fight tumours. Nivolumab has had "remarkable" success fighting end-stage lung cancer in trials, experts say. It is also effective against other cancers." (Hear Bob discuss this on the May 23, 2016 BEL program.)