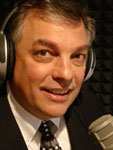 Friday's Broadcast
Real Science Radio host Bob Enyart concludes his interview on the big problems with the big bang speaking with Spike Psarris, an engineer formerly with the U.S. Military Space Program and currently, the producer of a fabulous video series, What You Aren't Being Told About Astronomy.

* RSR Programming Notes: CHANGES!
- Nov. 24 & 25: RSR's List of Big Bang Predictions
- Nov. 28: RSR Interviews Biologist Dr. Robert Carter
- Nov. 29, Saturday: Denver's Global Flood Seminar by Bob Enyart 9a - 4p
- SAVE THE DATE: Saturday, March 7, 2015: RSR's Big Bang Seminar in Indianapolis, Indiana

Get a Real Astronomy Resource: Get the Spike Psarris DVD What You Aren't Being Told About Astronomy and Vol. II, Our Created Stars and Galaxies! These are hands down the best astronomy videos ever made! You'll agree, or your money back! Also, purchasing them from us here at RSR will help us keep our radio show on the air reaching more and more people! And have you browsed through our Science Department in our KGOV Store? (That's what we call it.) Check out especially Walt Brown's In the Beginning and you also might enjoy Bob Enyart's Age of the Earth Debate against a well-known geophysicist and a University of Colorado mathematician who are members of the Denver chapter of Reasons to Believe. And Bob strongly recommends that you subscribe to CMI's tremendous Creation magazine!
---