* Interview-Based Review of Flood Models: Jane Albright interviewed 16 creation scientists and leaders for this project. Another 17 declined to be interviewed. Now, Real Science Radio co-host Bob Enyart interviews Albright, a working professional engineer formerly with the U.S. Navy nuclear engineering program, on her resulting articles about the most prominent flood models.
- The Vapor Canopy Theory (VCT, built on a secular theory and now rejected by the leading creation groups).
- The Hydroplate Theory (HPT, built on the floodwaters coming from just beneath the crust).
- Catastrophic Plate Tectonics (CPT, built on the secular PT model and affirmed by the leading creation groups).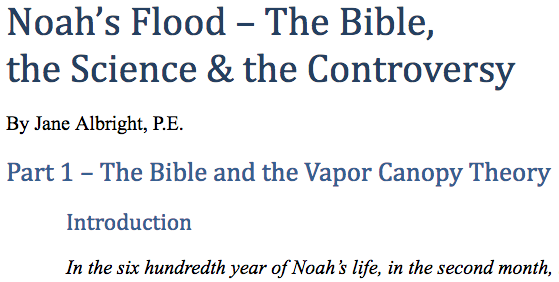 * Help Bob Identify Scientists & Engineers Supporting HPT: Please email Bob@rsr.org if you are a scientist or an engineer (or you can tell us of one) supporting Dr. Brown's Hydroplate Theory!
* Enjoy Jane Albright's Series: R ight here on RSR...
- albright-flood-series-1-VCT.pdf
- albright-flood-series-2-HPT.pdf
- albright-flood-series-3-CPT.pdf
- albright-flood-series-4-controversy.pdf
* RSR's Albright Broadcast Series: Bob and Jane discuss her article series on these three programs:
- Pt. 1: The Vapor Canopy and the Hydroplate Theory (this program, discussing Albright's first two articles)
- Pt. 2: Catastrophic Plate Tectonics (discussing Albright's 3rd article)
- Pt. 3: The Cntroversy over VCT, CPT, & the HPT (discussing Albright's 4th article)
* Today's Resource: For online resources, go to rsr.org/flood. But to order RSR's #1 best-selling video, just click...
The Global Flood and the Hydroplate Theory
Blu-ray, 2-DVD Set, Stream or HD Download!
Real Science Radio co-host Bob Enyart presents the scientific evidence for Dr. Walt Brown's model of the global flood, along with the relevant biblical material. Enyart also discusses Brown's opponents and contrasts both the vapor canopy and catastrophic plate tectonics with the hydroplate theory.

DVD Vol. 1
1. Walt Brown, Creation Leaders, and Scripture
2. Hydroplate Theory & Scientific Evidence

DVD Vol. 2
3. Hydroplates vs. Plate Tectonics
Bonus: Origin of Earth's Radioactivity

The Blu-ray disc contains all parts on one disc. And for now, save $10 with our special introductory pricing which discounts the $50 retail price to $39.99!
* Get the Best Creation Science Book Ever Written: Just click on the cover of the book to purchase it from RSR (which also helps us to continue broadcasting)...