* Boulder, Colorado's Planetarium Show on Christ's Birth: Celebrating Christmas, Real Science Radio hopes you too enjoy this interview with the host of the University of Colorado's Fiske Planetarium presentation, The Astronomical Star of Bethlehem, amateur astronomer Gil Buller. From the planetarium's website, "This exciting program examines the sky at the time of the birth of Christ to see which astronomical phenomenon may have been the Star of Bethlehem." Bob Enyart recorded this interview in 2011.
* Orbital Mechanics Help Identify the Star of Bethlehem: Using computer-generated images of the night sky in ancient Israel, this planetarium program does in great style what Bob Enyart's DVD does using more modest computer simulation software. Click to get Bob's classic DVD, The Planets, Stars, and The Bible.
Today's Resource: Get RSR's Big Bang video! Physicist Lawrence Krauss, NASA, etc., all say that it is the confirmed predictions of the big bang theory that have convinced them that the model is correct. So we invite you to Google: big bang predictions. You'll see that Google ranks our article, at rsr.org/bbp, #1 out of more than half-a-million relevant pages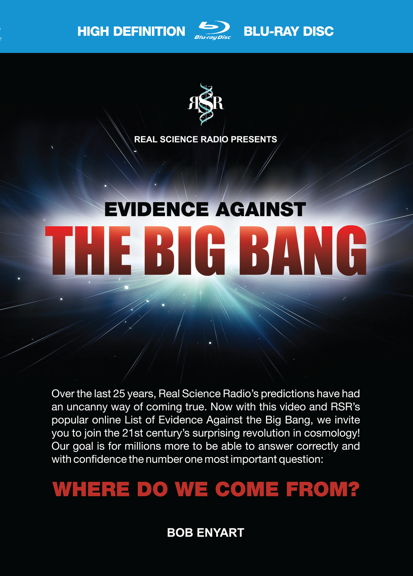 * Available Now! The long-awaited astronomy video RSR's Evidence Against the Big Bang, is finally here! If you enjoy Real Science Radio and would like to help keep the guys broadcasting and reaching more people, you just might love getting your own copy of this really fun and informative video. This big bang video is persuasive in the way that RSR is known for and so it will also make a fabulous gift for yourself and for others, including creationists and non-creationists!
* In Quantities of 1, 4, and 10: Our full-length video has been described as a tour de force against the big bang theory! It's based on the top lines of evidence listed over at rsr.org/bb. Here are the formats and purchase options available:
- DVD or Blu-ray $34.99
- Download $29.99
- Christmas gift pricing 4 copies for $99.99
- Christmas pricing 10 copies for $199.99
This bulk pricing is available on our online store or by calling us at 1-800-8Enyart.